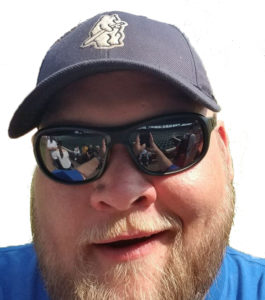 Some say the myth of Steven Walker doesn't have a beginning. Others say he was born in Illinois in 1980 and has been rocking out…with his stockings out…ever since. He spent the bulk of his career across The River but moved to La Crosse with his wife, Michelle, in 2009. They enjoy a life of luxury. By luxury I mean the standard definition… a two bedroom apartment with two cats and coin laundry. The two have been married since 2006 and dominating their two-person fantasy football league since 2011.
Steven loves the Chicago Cubs, the Green Bay Packers, live theater, music of all genres, lists, writing bios and the sweet jolt of coffee in the morning.  He enjoys the water and can be found on, in or near the river most of the warmer months. He can also be found thinking about the river during the colder months.
Steven is also the director, and founder, of the all original sketch comedy show Live! From La Crosse, a "Saturday Night Live" style show to La Crosse since 2013. He has been a part of over 40 local theater productions, acting in shows like Glengarry Glen Ross, The Pillowman, and Guys and Dolls to name a few. He also had the privilege of directing an original play (The Season) by local playwright Christopher R. Wolff as well as Agatha Christie's And Then There Were None for the La Crosse Community Theatre.