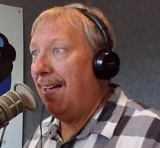 I was born in Salem, OR, and my folks moved to La Crosse when I was still a toddler. Mom was from here and my Dad was born and raised in Philadelphia. When I was a kid, I would sit in my room with a radio that had a built in cassette recorder. I would tape songs off the radio, stop the tape, and then do my own DJ thing. You know, intro the tunes, give weather reports, sports stuff, etc. I often think it would be fun to have those tapes! (And don't tell my mom this, but when I was 13 I got my own phone line in my room, and my friends and I used to call people up at random and do "radio contests". We would do trivia questions and tell them they'd won an album or something. Never got caught.) I was on the school station at La Crosse Central (Go Red Raiders!), which is where I graduated from. I did a lot of wedding dances, clubs, etc. but never got a "real" radio job until I was 28.
My wife Debbie and I live in La Crosse with two incredible dogs, Boomer and Ella. Although country music is my thing now, like many of you I grew up on classic rock. It may surprise you to know that I'm a huge "Parrot Head". For those that don't know, that's a fan of the great Jimmy Buffett. Jimmy's THE MAN!
I can't tell you how much it means to all of us at 102.7 WKBH to have you as a listener. Thanks!